Goodreads Synopsis 
Average Star Rating: 4.06 Stars
My Rating: 5/5 freaking Stars 🙂
Genre: Mystery fiction. Crime, Thriller, Suspense.
"Which would be worse, to live as a monster or to die as a good man?"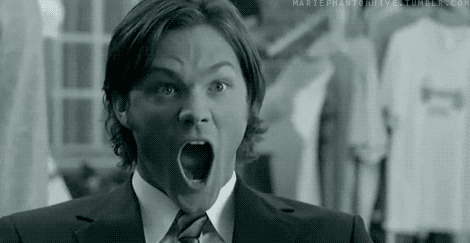 Literally my face during some parts of the book

Oh man! Oh man! It's 1:30 am on 13th July 2016 and I have just finished this book 5 min ago and holy fuck that was a ride. I can't control myself, I literally feel like lying on the floor and just let everything that I have read sink in.
I have been reading a lot of good books lately but I had yet to come across an amazing book  (although I am reading Horns and loving it) but this one just freaking made it for me 🙂 I can't even begin to speak but I really need to review this before my head literally blows up!!
The book is set in 1954 and it follow the character of Teddy and his partner Chuck who are  Us marshals sent to investigate the disappearance or escape of a patient in a mental institution called Ashecliffe Hospital for the Criminally Insane. It's set in an Island which has high security and some of the most vile criminals. They soon discover that there is more to this Island than meets the eye.
"The brain controls pain. It controls fear. Sleep. Empathy. Hunger. Everything we associate with the heart or the soul or the nervous system is actually controlled by the brain. Everything. What if you could control it?"
First things first, Dennis Lehane is a talented writer, I have to say there was never a dull moment in the book and I had read one of his works prior to this but it didn't really blow my mind but what I got from the other book was that he creates amazing dialogue between his characters.  They sound like real people when they communicate between themselves in the book and I freaking loved it. The witty banter between Teddy and Chuck was just funny, cool and had an easy flow to it 🙂
"How many psychiatrists does it take to screw in a light bulb?" "I don't know. How many?" "Eight." "Why?" "Oh, stop over-analyzing it."
The concept of being stuck in an island with a craze killer on the loose was just thrilling, it was like one of the best concept for a book and it was filled with so many weird and odd characters especially the criminals. It was interesting to see how the schizophrenic, paranoid, sociopaths and so many other were portrayed. The book felt like American Horror Story Asylum meets Survivor meets Sherlock Holmes 🙂   
The voice of Teddy was clear and precise, since it was a plot-driven story it blended very well and I couldn't for the life of me stop flipping the pages
I was with the characters throughout the investigation and I have to say that it reignited my love for mystery books. The puzzles played with your head and it was exciting to have that feeling again where you suspect everyone…
and the end product blowing your mind…
I am so happy that I picked this book out randomly because it was everything and more… I don't want to say much about it because it is better if you go in blind 🙂 Highly recommend it and I also can't wait to see the movie adaptation of this one 🙂
Thanks for reading and Happy reading 🙂