"I'm a post-menopausal woman who's lived in a man's world for twenty years. A more cynical, cruel creature it's hard to find.
 4.25 ★★★★
 Genre: Crime, Mystery, Suspense


Crime fiction is one of those genres that just feels right, when I get into the story and try to piece everything together. It especially difficult to come across one that takes the classic tropes and weaves it smartly but Mo Hayder has proven once again that she can own it. I came across her through a 7th book in the Jack Caffery  crime series, not knowing it was the 7th book, I read it as a standalone and I was utterly speechless. It was gruesome, thrilling and one heck of a ride and this one held its own.
The story follows two sisters who had a fall out at a young age and have not reconciled but a gruesome murder will bring them together in the most interesting and complex way. We go into the ugly world of child pornography, modelling,self-harm, corruption and so much more. I don't want to give away everything because of the mystery aspect of the book.
I loved it, I actually didn't expect to like it this much… It had a good length so I got to know the two narratives well enough to actually care about what happens to them. The author managed to balance plot and characterization as well as discussing heavy topics and themes. We got a glimpse on how ugly the modelling business is and the unbelievable expectations placed on women to uphold a certain "look". She also managed to shine a light on sibling relationships and the lengths one could go to protect the ones they love & to top it all the mystery was very engaging and the last 10 pages…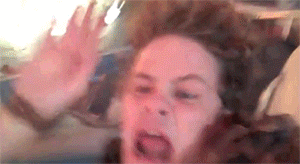 I feel like Mo Hayder's books should be read by everyone because they are so fun and gruesome… Would HIGHLY recommend it.
Happy Reading & thanks for reading 🙂
GOODREADS    TWITTER  INSTAGRAM   TUMBLR