"Winter is coming."
― George R.R. Martin, A Game of Thrones
Hey, fellow readers lovely to see you and hope life is being kind, today's post is inspired by Cormac McCarthy's The Road (Review) and that is currently winter in some places abroad but 1000 degrees in Nairobi. I really can't stand the mosquitoes and the uncomfortable heat, the rainy season needs to get here sooner before my skin actually melts. mood
"Winter is the time for comfort, for good food and warmth, for the touch of a friendly hand and for a talk beside the fire: it is the time for home."
― Edith Sitwell
As stated earlier the whole idea of The Road left me cold and isolated even after a week and the atmosphere was so dark and disturbing that it kind of reminded me of winter. I will recommend books that articulate the feeling of loneliness either in a character's head or location or the writing style. Some readers might be put off by this idea but I find it very fascinating when an author manages to capture that moment of seclusion and play around with dark themes.
"Everyone is a moon, and has a dark side which he never shows to anybody."
― Mark Twain
I associate this feeling with winter because I am usually stuck inside the house and in my own head either reading or just contemplating of a hot cup of tea, it's a balance between comfort and scary especially with the thoughts that roam inside my head.
So, without further ramblings let's get into the 5 books to read during Winter
"What good is the warmth of summer, without the cold of winter to give it sweetness."
― John Steinbeck, Travels with Charley: In Search of America
Genre: Contemporary Adult Literary Fiction
This 700+ page monster is nothing short of stunning. Tartt only has 3 books out and each took 10 years to write and you can tell by the attention to detail, some might find her work a bit wordy but I enjoyed every single moment of this book. It follows Theo Decker as he navigates his life from a young age to adulthood after a tragic event takes place. The book has so much depth and we live inside the head of the main character for 700 pages, the feeling of depression and isolation is pretty heavy and hard hitting but it was worth it.
"Melancholy were the sounds on a winter's night."
― Virginia Woolf, Jacob's Room
Genre: Horror, Literally Psychological Thriller, Suspense
I will forever be haunted by the presence of this horror classic that doesn't get the praise it deserves. A married couple tries to spice up their marriage by going to their summer cabin for some sexy time Ron devour but things quickly go down fast living the husband dead and the wife handcuffed on the bed post. She will face the most horrific events that will send a chill down your spine. It doesn't get more isolated than this, Seriously I dare you to open and read this book.
P.S. Also Misery is very similar to this one 🙂
"Look at how a single candle can both defy and define the darkness."
― Anne Frank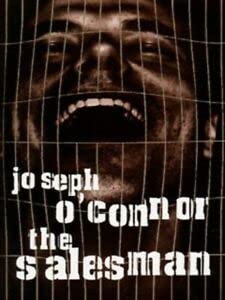 The Salesman by Joseph O'Connor (

Book Review Here

)
Genre: Irish Contemporary Lit
Okay, Okay I promise this is the last time I will talk about this one (Not Really!!!!) This is dark Irish contemporary at its finest, the whole tone of the book screams winter. After a heinous assault towards a young girl (A trend amongst these books) the father wants justice and since the court system has failed him he will take justice into his own hands and hunt down the culprit. His struggle with alcoholism was very emotional to witness and his love for his daughter drove him to seclusion in the cold Dublin setting. Highly Recommend it
"Even the strongest blizzards start with a single snowflake."
― Sara Raasch, Snow Like Ashes
The Handmaids Tale by Margret Atwood (

Book Review Here

)
Genre: Feminism Lit, Modern Classic, Dystopian
I honestly didn't connect with the main character but the whole idea and the scary events that took place in this book will scare any living human. The collapsed society that abolished human rights and lowered women into reproducing beings was tragic and we witness all this through the eyes of a handmaid. It is almost prophetic and I pray that society wouldn't dare make this fictional world a reality. In this whole list, this book is somehow similar to The Road in the atmosphere and the writing.
"When you light a candle, you also cast a shadow."
― Ursula K. Le Guin
Genre: European Contemporary Literary Adult Fiction
Easily the most heartbreaking novel that discusses the struggles of everyday women face I have ever read. The book reads very much like a short story collection, in which we follow different women and young girls in each chapter as they face life e.g. Rape Victim, Early Pregnancies, Prostitution etc. Her writing reflects the challenges the character's face and each individual character is captured so well that you will feel every emotion they are experiencing. Also, if you like interconnected narratives this one is definitely for you.
P.S. Might as well recommend her other book Blow Your House Down
So, if you close the windows, light up a candle get cozy and grab one of these books and just disappear into the pages.
I hope you got some new books on your to-be-read if you have any books similar in tone to any of this feel free to tell me about them.
Thank you so much for reading.
So until next time stay Bookish 😉