"…the reader who plucks a book from her shelf only once is as deprived as the listener who, after attending a single performance of a Beethoven symphony, never hears it again."
Welcome to another post Friends 😊 Today will dive into 5 books that need to be reread in 2018. As much as I love new books nothing beats that feeling of re-living through the same emotions, reuniting with favourite characters and just that nostalgic feel. Yes, sometimes the books don't live up to the glory days but that just shows how valuable re-reading is😅 Let's get into the books
(All Book Reviews will be Linked)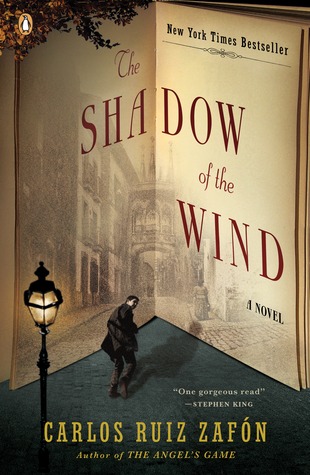 487 pages
Putman Press
Genre: Historical Fiction, Books about Books, Mystery
The book follows Daniel, after the loss of her mother and haunted by sorrow, his father decides to share with him a magical place called "Cemetery of Forgotten Books" where lost or forgotten books end up. Inside he stumbles upon a book called The Shadow of the Wind, he devours it in one night and it resonates with him and sets him on a path to discover the history of the author. He soon discovers that someone has been acquiring the books & burning them, also some aspects of his life mirror the author's life. :0 Filled with dark, haunting secrets and colourful characters the book opens the past and much more. (I would advise going in blind and just experience it)
I have talked countless times about this book and I won't stop till every book lover has read it. The feeling of being in a bookstore, the value of storytelling is the central focus of this epic novel and I can't wait to revisit it. It's basically a bibliophiles dream book.
529 pages
Picador
Genre: Generational Saga, Historical Fiction, Contemporary, LGBTQ
The story follows Cal's Grandparents as they are the last remaining Stephanides family in Greece and after the Turkish army invades their land and they are forced to flee to America and start fresh lives but something *not gonna say that because of spoilers* happens during their travels to what seems to be the promised land. We follow them as they get culture- shock, Fight to fit in and ultimately try to live and adapt to the new surroundings.
My introduction to the topic of intersex with a huge family saga started with this book & it left me breathless. The main character's voice was unique and the writing was satirical in a way. Definitely, one that has stayed with me for awhile and I can't wait to see if it's still as impactful.
393 pages
Picador
Genre: Irish lit, Thriller, Contemporary
Set in Dublin Ireland 1994, the town is infested with drug addicts and crime is at its peak… We follow Billy, a salesman whose only daughter ends up in a coma after a dastardly robbery. The culprits are apprehended and set to be a charged in court but on the day of the sentence, the gang leader escapes. Billy decides to take justice into his own hand by tracing the young culprit's every move as he plans his revenge. But soon things spiral out of control in a very disastrous way. One small decision can ruin everything or make it better? You have to read to find out.
My favourite underrated book (Click here for 5 Painfully Underrated Books )
I occasionally get these glimpses of certain scenes from this book. They are usually dark, atmospheric, depressing and isolating. It moved me to tears and I need a good cry again.
539 pages
Pocketbooks
Genre: Fantasy, Coming of Age, Mystery
Cory (The main narrator) is a young lad living in Zephyr, Alabama in the 1960s, the small town is quite strange in a way. We see the beauty of being a child through his eyes and also the value of holding on to that inner innocence even as one grows up. One day as he accompanies his father in one of his milk deliveries an accident occurs that will take him into one interesting adventure with lots of unusual characters along the way
This is the ultimate nostalgic book… Man! It took me places no other book has ever dared to go. I didn't expect to fall in love with it but I did and I desperately need to return to this story. The narrative feels like actual magic, it will have you crying for your childhood naivety. Can't wait
406 pages
Atria Books
Genre: Gothic, Mystery, Books about Books, Historical Fiction.
We follow Margaret Lea the biographer/bookstore manager as she encounters a letter one day from a very prolific and very private author Vida Winter. The letter asks Margaret whether she would like to compose Ms Vida' biography but the problem is Ms Vida has been known to evade the truth and she is very sceptical about the whole idea but the need to find the truth will take her into one disturbing past, one disturbing family saga with dark secrets and complex family tree.

I devoured this book in two sittings and I feel like I missed out on a lot because I was so caught up in the beautiful writing style, gothic atmosphere and compelling mystery. I will take my time with it and enjoy every moment.
Are you a big rereader? What books are you excited about rereading? Hope you enjoyed the post, thanks for visiting