Hello Readers, Today I'll finally answer the most frequently asked question " Where the hell do you buy your books?"
I got you fellow Nairobi Bibliophiles
I have always been a bit jealous of how most foreign counties have easy access to certain books with state of the art libraries, chain bookstores and indie used bookstores. Well in Nairobi it took a bit of time for me to navigate through the bookselling system in order to come across those books I want to read. I have nothing against ebooks it's just physical books are where the magic happens. For two years I have been tracking the best places for buying books and I am still looking for more but today I'd love to share my experience thus far.
Design your own maps here
I'll take you through the streets of Nairobi to the online stores just to cover all the best places to get both used and new books. For my international readers hope you enjoy the small glimpse of my local bookshops.
( P.S. I've linked the locations of most places to make it easier for you to find them)
_
INAMA (Bendover) BOOKSHOPS (Street Vendors)
 "inama Bookstores" ("bend over bookstores") because you have to bend in order to look for the titles you want. 
(An article on The Street Vendors Bookstores Click Here)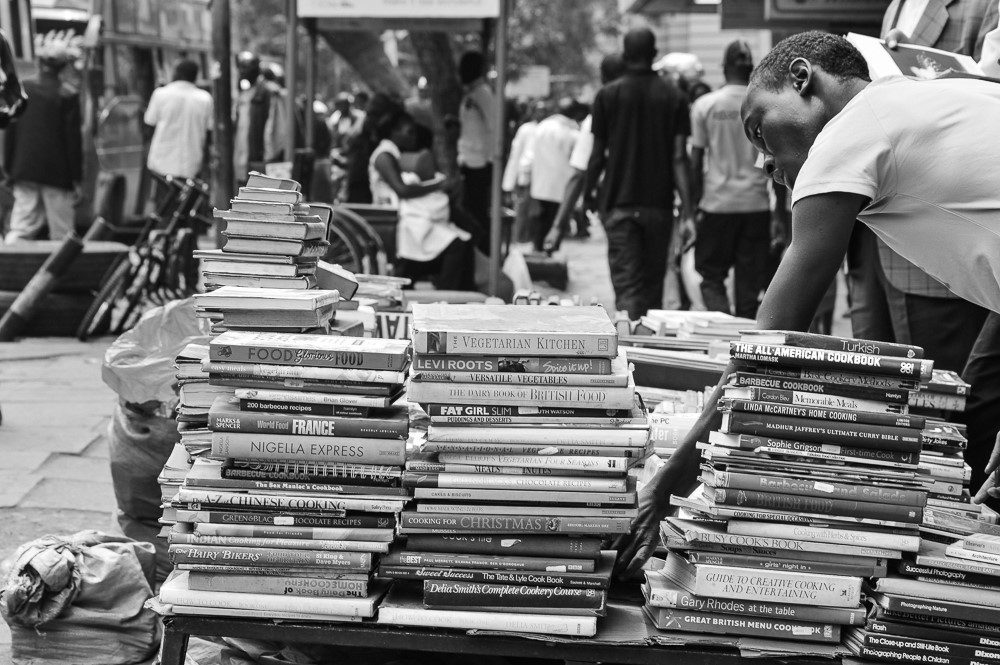 A great place to get cheap used books and where I get the majority of my collection are from street vendors. The books may not be in the best shape but they still do the job and are easy on my wallet. Here are some of my favorite spots.
_
Outside Tusky's Commercial along Tom Mboya Street

I highly recommend this place especially if you are looking for those floppy paperbacks. The price is usually 100/= but on some days they can go as low as 50/=
All along Tom Mboya Street, you will find multiple street vendors who have a vast array of quality titles.
_
Muindi Mbingu St, Nairobi City
Outside School Outfitters

They predominantly sell hardcovers and in pretty good condition. This is where I bought the majority of my Harry Potter editions. The price range is usually 300/= but they usually have a clearance sale for 100/=
_
Kimathi St, Nairobi City or Nation Center
Near Ibiza Hotel

Another amazing place for Hardcovers and a personal favorite. I bought The Luminaries for 100/= and it was in amazing in amazing condition.
I generally prefer buying books through street vendors because it somehow feels like an adventure you never know what you are going come across. Yes, sometimes I come out empty handed but on those magical days, I find some really amazing titles.
Pro Tip: The Street Vendors usually stock up new books on Friday so that's the best time to go if you want to successfully find good books. I would recommend befriending the vendor and leave your contact info to get an alert when new books arrive.
_
Chain Bookstores for New Books

If you are willing to spend a bit of money to acquire new fresh books then you should check out these places.
_
Bookstop in Yaya Center
This is one of those bookshops that literally has everything and if they don't have it in stock they ship it in for you. I love their set up, the shelves are arranged alphabetically by genre.
Plus they usually have a section for used cheap books
_
Prestige Bookshop
The set up is so beautiful and the stack upon stack of books creates an amazing ambiance. I frequently just go in and browse they are a bit pricey but still recommend them.
_
Text Book Center
They have amazing books and are located in major malls all around Nairobi.
_
Online Bookstores
For those who are scared of going out to buy we have some Online Stores that get the job done. Yes, Shipping to Kenya can be tedious if you have no idea what you're doing from shipping cost and waiting for months but I have used these three and I was impressed by their service. If you have any suggestions on other online platforms I'd appreciate it.
_
I usually use Abe books for cheap used books even though it takes awhile to ship to Kenya but the prices are usually good.
For Nairobi Online Bookstores I recommend you check out:
_

The Magunga Bookstore
CALL or WHATSAPP: (+254) 703 138 039
I found them through Instagram and I love their selection of Contemporary Modern & Classic African texts. The site is easy to navigate and upon placing the order the book gets delivered to your doorstep.
_
Ides of March
Contact them +254 720 815 818
I love their set up and they always answer any questions I have about their website. They also host lots of bookish meetups and the book collection is always on point. Plus they also deliver the book to your doorstep.
_
I hope you enjoyed the small trip around Nairobi's Bookshops and above all I hope my fellow Nairobi Bibliophiles have gotten an idea of how to navigate through the complex shopping experience. If by any chance you have visited these places I would love to know or it would be awesome if you recommend some hidden gems in Nairobi because I am always on the lookout for new places to buy books.
Thank you so much for visiting